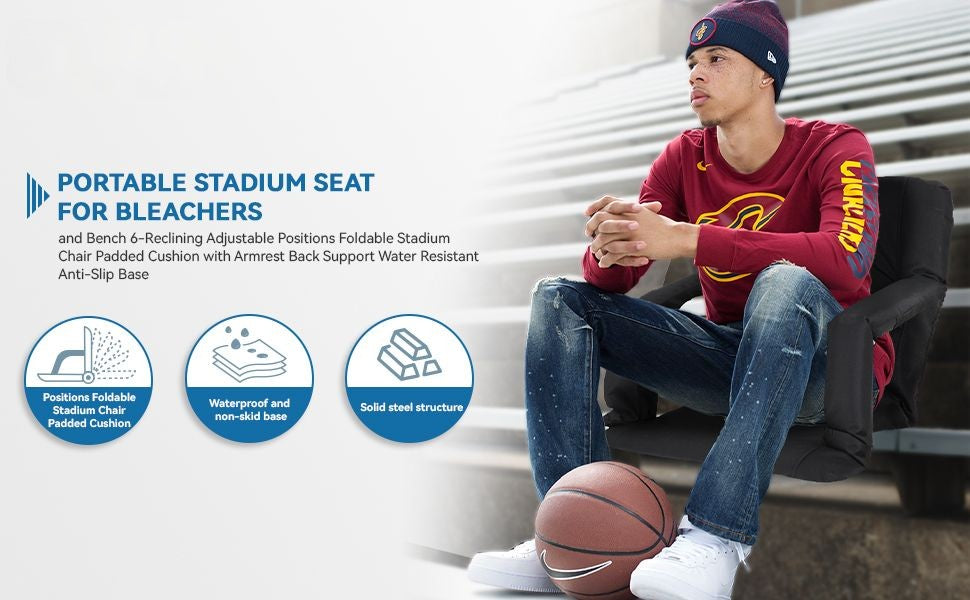 EXTRA WIDTH:Designed for maximum comfort, this outdoor folding stadium chair is a roomy 19.5" width that gives you all the space you need

COMFORTABLE PADDED CUSTION:Foam cushioned padding is soft and the frame is extremely well cushioned and very sturdy.You can enjoy outdoor sporting games on the bleachers or at home comfortably without worrying backaches.Durable skid and water-resistant bottom aids in traction on various surfaces while helping keep dry


RECLINING 5 POSITIONS:This cushioned bleacher chair can be easily reclined to 5 positions, and boasts thick padded armrests so you can lay back and really enjoy the game

PORTABLE& ADJUSTABLE:This folding seat will let you rest in style when you heading to the pier or just kicking back to watch the kids run through the sprinkler. 5 backrest positions aid in finding the right angle for any occasion.Portable backpack design with two adjustable shoulder straps for easy on-the-go seating.A cup bag beside the for holding bottles or drinks.This Stadium Seat also features adjustable padded arm rests that you can put up to rest or put the arms down for maximum seat space

Overall Dimensions 33" L x 21.2" W x 2" H.Enjoy reclining at the beach, sitting at the park, sporting events, camping, bleachers and more
Description:
This portable stadium seat is made with 420D polyester covered cushion with inner cotton stuffing, for comfort at any outdoor event such as a picnic, beach, stadium, park, patio etc

Water-resistance blocks the water from penetrating the stadium seat and damaging it, and boasts handy side, back and armrest pockets that keeps your possessions tidy and within reach


Adjustable backpack-style shoulder straps allow for easy transport, a cup bag beside the for holding bottles or drinks



FEATURES:
Designed for maximum comfort, this outdoor folding stadium chair is a roomy 19.5" width that gives you all the space you need.
The stadium seat with polyester and cotton cushioning, escape the pain of seating on the hard bleachers even look forward to overtime.
This folding seat will let you rest in style when you heading to t he pier or just kicking back to watch the kids run through the sprinkler. 5 backrest positions aid in finding the right angle for any occasion. 
Seat features adjustable padded arm rests that you can put up to rest or put the arms down for maximum seat space. 
Foam cushioned padding is soft while polyester cover is resilient to wear and easier to clean
Durable skid and water-resistant bottom aids in traction on various surfaces while helping keep dry.
Enjoy reclining at the beach, sitting at the park, sporting events, camping, bleachers and more. 
perfectly portable for the stadium, camping, outdoor concerts, sporting events, sunny days at the beach and more.



Warm Note:Do not immerse in water.