ZENY Mini Walk-in Greenhouse is perfect for gardening enthusiasts looking for a way to grow plants and flowers all year round. The green color PE cover retains solar energy and protects seedlings from frost or pests, allowing your plants to grow with out stress. The spacious design is equipped with 8 wired shelves, 4 located on each side, providing ample room for plant storage. You can easily walk in through the zippered door which can be rolled up, and move freely to cater for your plants. Durable high-grade metal frame with guy ropes and stakes support its stability for harsh weather conditions. This mini greenhouse is ideal  for balcony, deck, or patio and can be easily dismantled to transport to another location.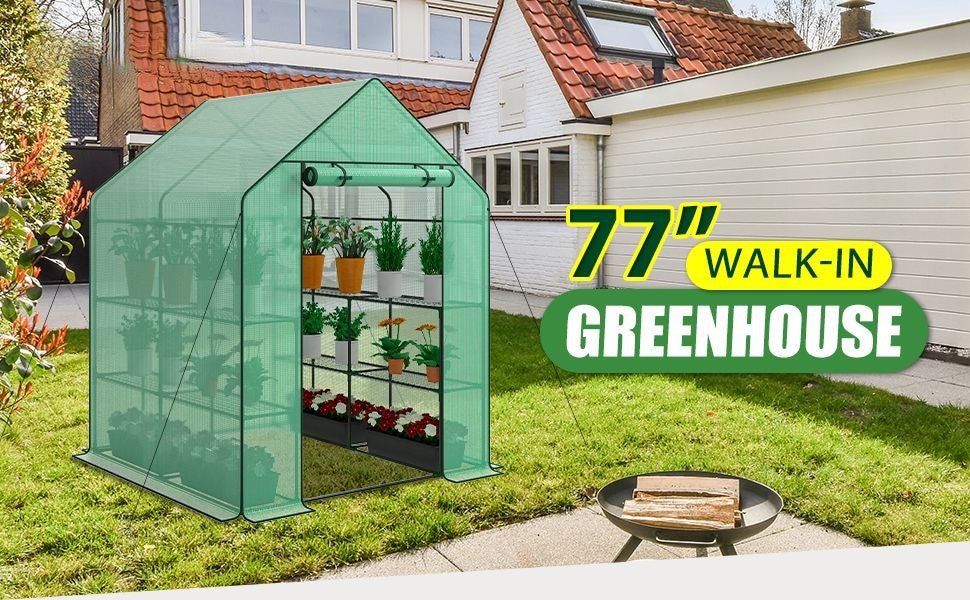 Mini Green House Features:
【Strength and Stability】The high-grade, powder-coated metal tube frame and heavy-duty cover are accompanied by guy ropes and stakes to maintain stability.The durable plastic cover of this greenhouse ensures all your plants are protected from rough weather conditions such as rain, wind, and snow.

【Multi-wired Shelves】8 wired shelves (4 on each side) provide ample room for plant storage and allow them space for healthy breathing.Built-In Shelving Keeping plants safe and organized is an effortless task. Different heights between the spaces allow for storage of small and large plants side-by-side.

【Spacious Space】The walk-in door allows for easy access to add a multitude of new plants without compromising the amount of space.

【Breathable & Zippered】Designed with a zippered roll-up door for easy access, and screened ventilation for optimum air circulation.

【Portable and Movable】It can also be easily set up or dismantled to be moved to a variety of areas, in- or outdoors.

In-Depth Features:
Durable PE Cover: 100% Waterproof and UV Protection for maximum solar performance. Extend your plant growing during off-seasons.
Zippered Roll-Up Door: roll-up door allows easy to get in and out. Equipped with loops to connect the cover and frame to hold the roll-up door in place.
Strong Frame: heavy-duty and powder-coated metal frame resistant to rusting. Durable connectors to hold frames in place.
Anchoring System:  Ropes and stakes included to secure the greenhouse in place. Effective for harsh weather conditions.




Benefits of Greenhouse:
Allow plants to grow all-year round and continue growing during poor conditions.
Keep away from pests and protection from other threats.