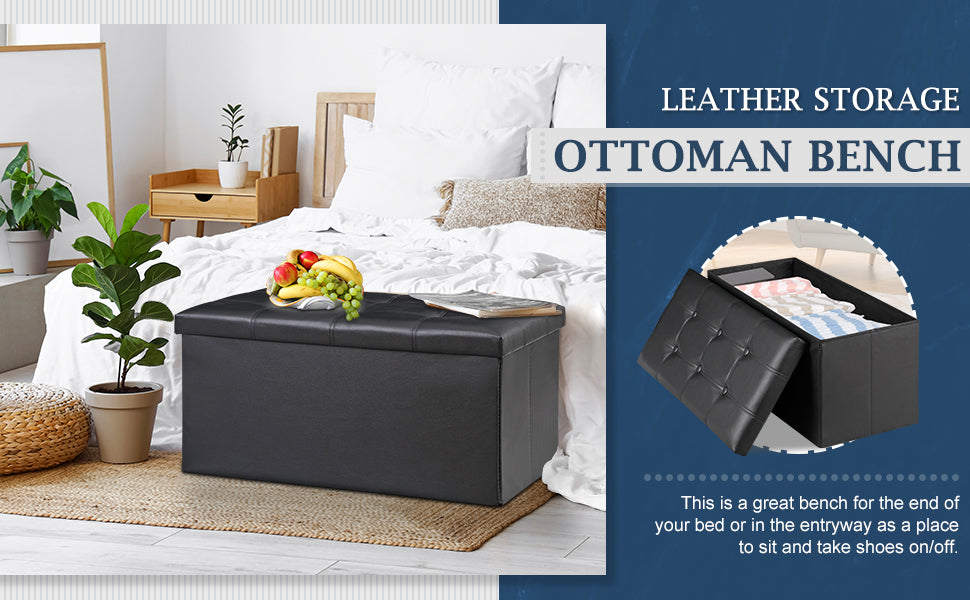 About this item

【Sturdy & Durable】This comfortable long storage ottoman is made of quality thick cardboard, durable faux leather, has the load bearing capacity up to 350lbs.   Waterproof linen fabric, built-in thickened sponge, make the cushion is soft and comfortable.   Beige unit you see everywhere and a perfect match to your couch or dining room chairs
【Portable & Versatile】Light enough to move anywhere when it's empty and even stored easily if you are not using it.   It stores the couch pillows and blankets when they're not in use, stores the extra shoe next to the bed, protect your kids toys in their room, stores bottled water, snacks in the living room, even food for cats and dogs and they cannot open it etc.
【Ample Storage Space】Internal Storage Size: 30"L x 15"W x 14.6"H, sturdy and could hold just about anything practicle needing stored.   Good height to use as an ottoman to put feet up while sitting on a sofa, and comfortable to use as extra seating.   You can use it as a coffee table, bench, toy chest, foot stools ottoman or anything you want.
【Easy to Clean and Maintain】Faux leather is waterproof and easy to clean.   Put it in the children's room, it can not only help you to store some toys or books, but also can be easily cleaned if children have snacks on it.   Great to put it in the space by you back door to sit on to tie shoes, took up little space and held everything you needed to hold.
【Easy to Assemble & Service】No tools needed.   It is like opening a collapsible box, you just open it up and may takes you about 2 minutes to assemble.