🍃【Dual Chamber】 This tumbling composter features two separate sides, which allow the first side to finish while leaving another side continue to add fresh scraps/clippings, creates an uninterrupted flow of rich, healthy compost. 43 Gallon capacity, 2 chambers hold quite a bit.
🍃【Excellent Aeration System】Designed with aeration holes and deep fins, allows needed airflow and mixes a lot of oxygen into the compost, break up clumps inside quickly. Dark color help promote the composting process too.
🍃【Rotatable Composter】The tumbling design makes mixing efficient. When full, rotating is easy and the frame stays solid. The large openings and removable door make it easy to add scraps/waste and remove finished compost. Comes with a Pair of Gloves to protect your hands and keep clean.
🍃【Durable Construction】The main body of this composting tumbler is made of durable PP, which is weather resistant and won't degrade under sunlight. The strong metal frame with high-grade coating is corrosion resistant.
🍃【Easy to Use】 Great for beginners, very easy to use, just close the door, turn it 5-6 times every 2-3 days. In hot summer condition , the compost can finish in as little as 2 weeks! ★★Assemble Required.
ZENY™ Microdermabrasion Tumbling Composter with Two Chambers
This compost bin helps turn kitchen scraps, garden chippings, leaves and weeds into green organic fertilizer for your gardening, it has been a great addition to having a healthy garden growth without chemicals. 2 separate chambers so you can have 2 batches of compost going at different times. Rotates for easy tossing of compost. Durable and sturdy for years of use. Let's begin your green organic life!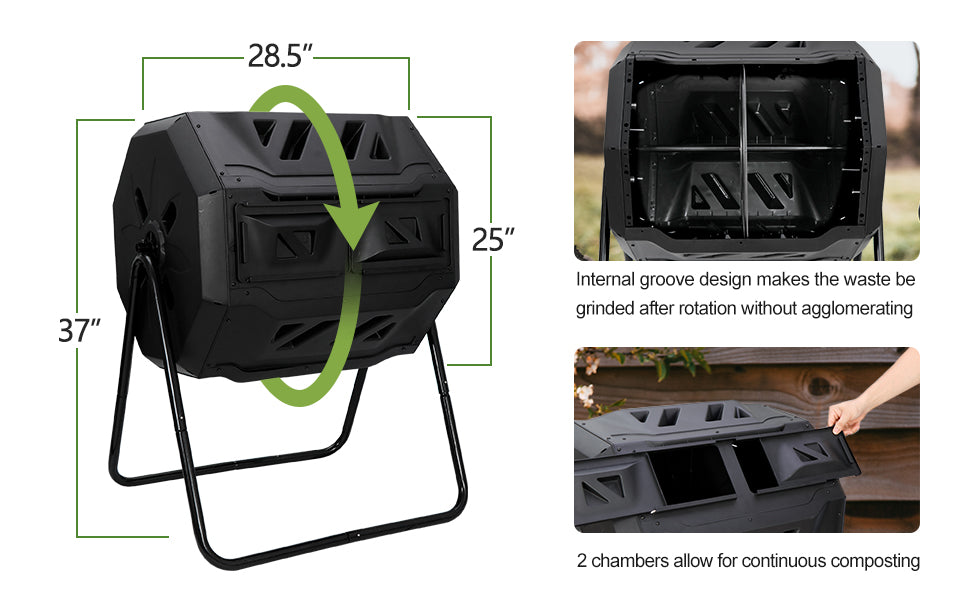 Features:
- Solid frame and durable PP body, anti-UV and weather resistant,will last for long-term of use.
- Roller system is effective for easy tossing of compost.
- Features 2 chambers, one is for the converted stuff, the other side is for the stuff that is breaking down.
- Aerobic fermentation, continuous composting, safe and environmentally friendly.
- The internal groove design makes the waste be grinded after rotation without agglomerating, which is conducive to oxygen fermentation.
- The composter are hold off the ground so that there is no possibility of wildlife or other pests gaining access to the waste in the can.
- Comes with a Pair of Gloves to protect your hands and keep clean.

Specification:
Color:Black
Material:PP + Steel
Overall Dimension: 28.35"L x 24.80"W x 36.81"H / 72 x 63 x 93.5cm
Capacity: 43 Gallon
Each Door Size:8.86"L * 5.31" W / 22.5*13.5cm

Package Included:
1 x Outdoor Composting Tumblers
1 X Pair of Gloves
1 X Screwdriver
1 X Instruction