ZENY™ Flooring Mats--Great for kids play areas, home gyms, pet floors, and even garage use to prevent floor damage.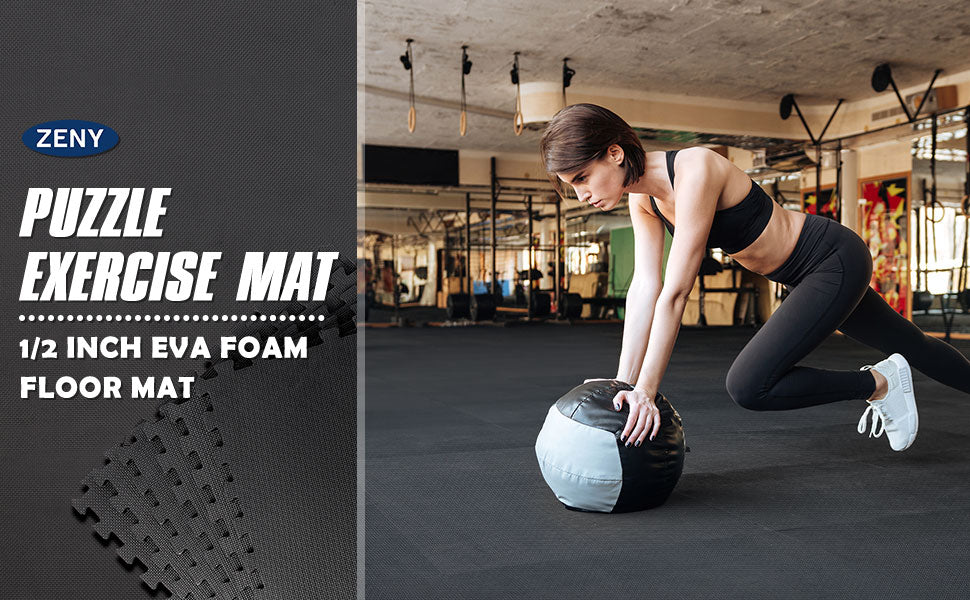 Home Gym Flooring Mat: The durable floor tiles are great cushion for a floor workout, the non-slip surface will provide more a comfortable and safe floor when you do movements

1/2'' Thick EVA Foam Mat: The workout mats are made of dense and durable EVA foam that is lightweight and non-toxic for an at-home gym. 1/2 inch is a moderate level of cushioning, providing better protection for your spine, hips, knees, and elbows and keep you safe as you exercise

Waterproof and Easy to Clean: This gym flooring is waterproof and can be easily cleaned with soap and water, non-toxic and non-skid texture surface will offer a comfortable and safe floor area. Detachable borders are included to give your flooring a clean edge

Versatile Floor Mat: The interlocking mat is ideal as a gym mat for exercise equipment. It is also great as a baby play mat for hard floor.This gym flooring is noise reduction, Suitable for all types of floor

Easy Assembly: The puzzle mats are easy to lock together, not take your much time to create a comfortable floor surface. Each interlocking tile measures 24''x24''x1/2''-thick.
Gym foam mat will provide a comfortable cushion for knees, back, wrists, and elbows when you do exercise movements. The floor mats also will protect the floor from heavy exercise equipment.ZENY foam exercise mat will offer you ideal workout area.Protect yourself from injury at the same time protect the floor.This interlocking floor tiles keep the floor clean. And it is easy to clean with wet cloth.Non-slip surfaces slow down the impact of gym equipment, strengthen friction and prevent falling during fitness.Each interlocking foam mat comes with 2 end borders. ZENY 6/12/24 Tiles gym flooring foam floor mat for home gym workout equipment. Provides a safe and comfortable workout area.

Safe, non-toxic Gym Flooring Tiles: The gym flooring tiles are made of high grade dense EVA foam material which is non-toxic safe and soft. Great for home office floor, baby playroom, home gym flooring and anywhere you need add cushioned floor space.

1/2-inch-Thick Cushion:ZENY floor exercise mats thick 0.5 inch, medium thickness, can provide a soft surface for exercise movements and fitness equipment. The floor mat will absorbs impact the noise during your workout.


Non-slip Texture Surface: Designed with non-slip top to prevent from falling


Easy to Assemble and Disassemble:Puzzle tiles can be fit together quickly and easily. The puzzle pieces can be disassembled easily and stack up to save space when not in use.

Multipurpose Floor Mats:The water resistant flooring tiles are great for use in garages, gyms, home fitness rooms, kids play areas. No matter carpet floor, cement floor or hard floor, it all works well


Cover a Large Floor Space:
6 interlocking foam tiles and 12 edges covers 24 sq.ft
12 interlocking foam tiles and 24 edges covers 48 sq.ft
24 interlocking foam tiles and 48 edges covers 96 sq.ft
ASIN:
6 Tiles,24 sqft: B0B5N4WP14

12 Tiles,48 sqft: B0B5N4CX54

24 Tiles,96sqft: B0B5NZ24XZ