The Zeny Single Tub portable washing machine is a compact design with a 9lb capacity. Great for small space living environment, the laundry capacity can hold 5.7lbs for washing, and 2.2lbs for spinning. This is great for cost savings while saving a trip to the laundromat for anyone who has trouble accessing one nearby. The washing machine also has separate timer control settings for both the washer and spinner operations, while the transparent body allows you to observe the wash section any time. The lightweight compact machine is great for camping trips, dormitories, apartments, or any place with limited space.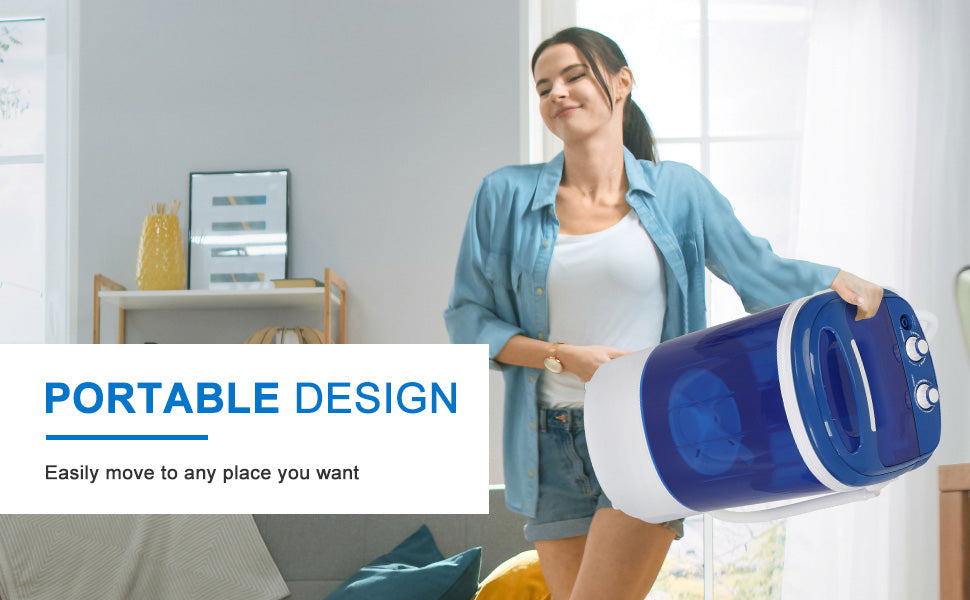 Portable Mini Laundry Washing Machine Features:
Perfect size for doing a load of clothing at one time, suitable capacity laundry (washer:4.4lbs,spinner 2.2lbs), could clean the clothing quite well, space and time saving, perfect for dorms apartments condos motor homes RV's camping and more, bring you much convenience in your life

Design with all in one tub with spin basket,easy to use,just put in your clothes,fill with water, set the timer, then start washing

Lightweight portable design makes it easily moveable to move it to anywhere you want , ideal for camping trips or dormitories. Quiet and no viobration feature adds more attaraction to have it to make life easier and efficient

The compact mini single translucent tub washing machine is convenient for storage.Detachable Spin Basket included.When you need to spin your clothes,just install the basket.Easy to use

This is a gravity drain requires it to be elevated off the floor/surface & near a drain outlet to work properly,Comes with a 13.39'' drain tube and a 6.76ft Inlet tube


SPECIFICATIONS:
Color: Blue
Dimension: 15.4"L×14.7'' W×22.8" H
Net Weight: 12.35 Lbs
Voltage:110V/60Hz
Washing Capacity: 5.7Lbs
Spinning Capacity: 2.2Lbs
Length of inlet pipe: 45.3"
Length of drain pipe: 17.7"
Length of power cord: 70"