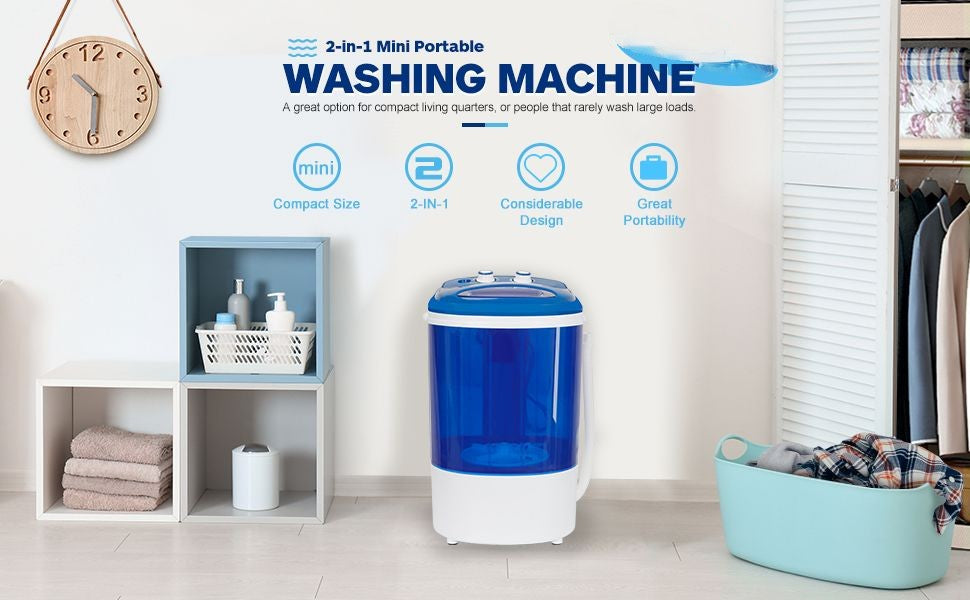 The Zeny Single Tub portable washing machine is a compact design with a 9lb capacity. Great for small space living environment, the laundry capacity can hold 5.7lbs for washing, and 2.2lbs for spinning. This is great for cost savings while saving a trip to the laundromat for anyone who has trouble accessing one nearby. The washing machine also has separate timer control settings for both the washer and spinner operations, while the transparent body allows you to observe the wash section any time. The lightweight compact machine is great for camping trips, dormitories, apartments, or any place with limited space.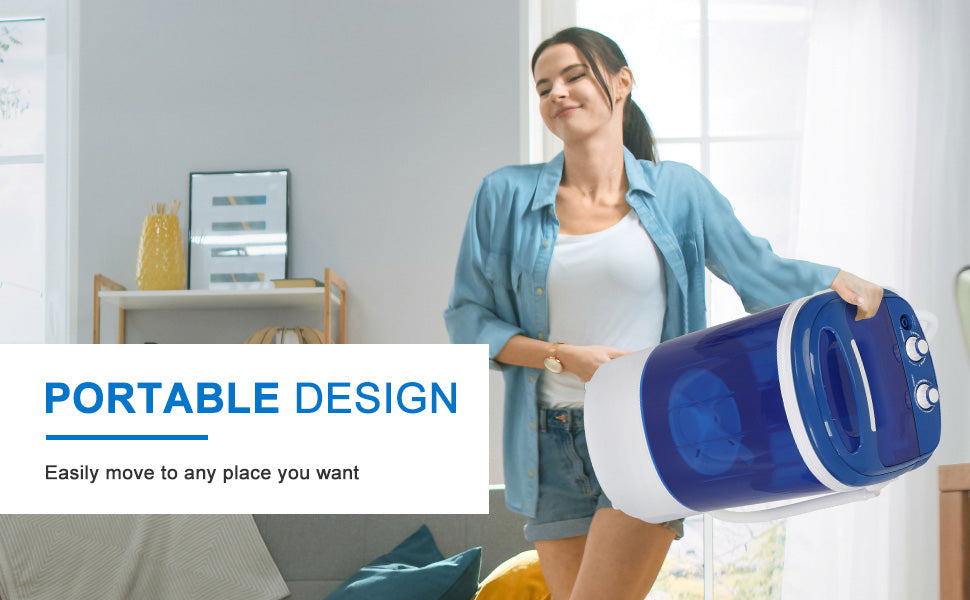 Portable Mini Laundry Washing Machine Features:
【Compact & Portable Size】 This small single tub washer is a great option for compact living quarters, or people that rarely wash large loads. This mini yet powerful washing machine features a spin cycle, and it runs on electricity by plugging into any standard outlet. Perfect for some small thing like socks, undergarments etc. or traveling outtside
【2-IN-1 Semi-Automatic Function】 2-in-1 function allows it can be used as a washing machine and a spinner. Single tub washing machine with spin basket up to 10 minutes (wash) and 5 minutes (spin) with the control timer to meet your different needs. Clear lid to monitor the inner condition.
【Ease of Use & Time Saver】Instead of dumping water in, or tipping it over to pour out the dirty stuff, high quality intake hoses attach to a sink faucet to make the process effortless. Simply load with clothing, add some detergent, set the timer to the desired setting and you are good to go.
【Considerable Design】 It has an automatic rinse cycle to remove soap, and leave your clothing super clean, and free of residues and irritants. Great for anyone that lives where larger machines aren't possible, but also nice for other folks that would prefer to wash certain things separately. Use occasionally for cloth baby diapers, delicate undergarments, silks and other fine fabrics, or use all the time to avoid trips to the laundromat.
【Lightweight & Great Portability】 It has a handle on the back and handholds on the side, easy to carry and lift, perfect portable solution for RV travel or camping, will allow you to have clean clothes while traveling without breaking the bank, or wasting time searching for a coin operated machine. Tip: Feel free to contact seller to get help if you have any product issue, all messages will be responded within 24hrs.


SPECIFICATIONS:
Color: Blue
Dimension: 15.4"L×14.7'' W×22.8" H
Net Weight: 12.35 Lbs
Voltage:110V/60Hz
Washing Capacity: 5.7Lbs
Spinning Capacity: 2.2Lbs
Length of inlet pipe: 45.3"
Length of drain pipe: 17.7"
Length of power cord: 70"