Mini Fridge Electric Cooler and Warmer for Car

【Electric Cooler & Warmer】 - This mini fridges is both an electric cooler and warm functions, can be low to 68℉ below ambient temperature,cools your food in 30 minutes, drove for two hours, everything is kept cool after unplugging it and no melted ice mess to deal with. And warmer range is 122℉-149℉, it can keep your food won't cool down fast when traveling.Its double-walled insulation can keep the breast milk,cosmetics and medicines cold or warm for hours.
【Big Capacity】 - With 28 Quarts capacity, this refrigerator could hold can holds up to 33 cans of soda or 6 two liter bottles, allows storage for your road trip necessities. Moreover,A removable divider creates 2 compartments for easier organizing and storing.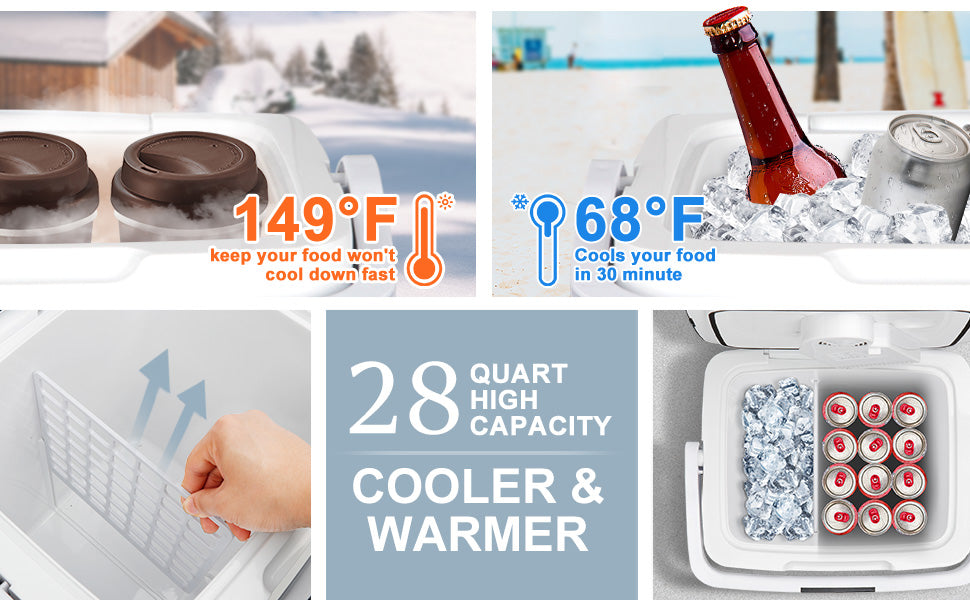 【Energy-Saving & Low Noise】 - Specially built with an Energy-efficient thermoelectric cooling system with no compressor, to minimize the vibration effect and noise,Quiet brushless motor and convection cooling with a fan to circulate cold air,no need to worry about it will bother your camping, resting or driving.
【Easy to Carry】 - Our Large bail ergonomic handle and compact design make this mini fridges easy to carry for even one-handed carrying.It can be stored almost anywhere within your vehicle, so your items can be accessed easily while on the road.
【Wide Range of Uses】- Whether you're travelling on the road or camping in an RV, camper or minivan, this large capacity storage container to heat & warm or cool & chill food & drink. Ideal companion for a fishing trip, camping weekend or large backyard barbecue in the hot summer sun. Ready to enjoy cross-country road trips and camping weekends!


Specification: 
Color: Black 
Weight: 9 LBs 
Dimension External: 35 x 28 x 40 cm / 16 x 13 x 17" 
Capacity: 26 Liters/27.5 Quarts/5.7Gal 
Voltage: 110V(AC);12V(DC) 
Cord length: (AC) 6 Feet;(DC) 6.72 Feet 
Cooling: 68℉ below ambient temperature 
Heat preservation range: 122℉-149℉ 
Energy consumption: A++ 


Cooler + Warmer
Insulation is pressure-injected commercial-grade polyurethane foam that delivers ultimate ice retention. This electric cooler doubles as a warmer, maintaining an interior temperature of 90°F.

Go skiing or ice-skating and sip a soothing mug of hot cocoa or bowl of soup to take away the chill.


28 Quart Storage Space
The outside is made of heavy-duty polyester & the inside utilizes a high density insulation. Product-protecting properties are built into the lining to resist odor, making it easy to clean between uses.

No need to worry about insufficient storage space,it can even meet the entire demand for the people in the SUV.


Package includes: 
1 x Refrigerator 
1 x DC Power Cord 
1 x AC Adapter 
1 x Manual 

Watts: 
110V AC House - hot watts : 55w; cold watts: 60w 
12V DC Car - hot watts : 50w; cold Watts : 40w

ASIN:B07RN84SM9